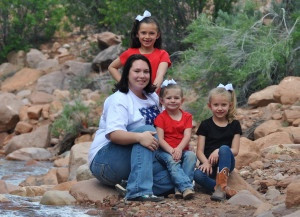 "Hope of the Grand Valley has been an amazing opportunity that was given to us. We have met amazing people with Hope of The Grand Valley that gave us many new friendships and Many new opportunities to help get our finances on track. What we love best about of Hope of The Grand Valley is The Chance we are given to Fix ourselves and get help on learning how to pay debt off.

We were able to take budget classes to learn on how to pay off debt and save for things in the future. What's best about the classes we can take them till our hearts desires or till we feel we have figured it out. We were also given the chance to take cooking classes and learn about many different foods to cook when you feel that you have ran out of Ideas.
We were also given the chance to be involved with MOMS classes. The classes are always different but they always have some class to help you deal with a life stressor that you don't know how to handle or a Relationship issues and how to look at it in a different way. The best part is there are Many moms with different stories but are somehow all related in some way. When you feel that life is taking you down it gives you a Chance to look at it in a different way. No One ever Judges you in any sort of way and that's what makes me always come back.
Hope of the Grand Valley has become more than just a simple friendship, they have become family. The Opportunities are endless. The help is always there when needed. Hope of The Grand Valley is the hand that gave us the Help out and they can continue to help out when in need. Hope of The Grand Valley Is something I would recommend to everyone that is needing help."
Chanteal K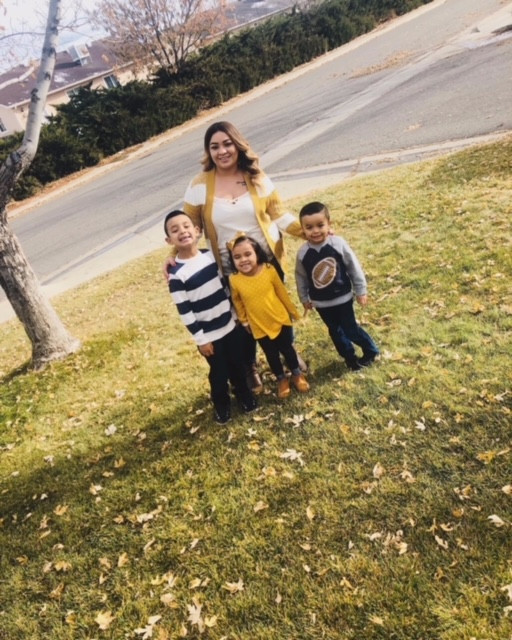 "I work for the school district and have recently moved into a new position. I am now an administrative assistant for the Culturally and Linguistically Diverse Education department. Miguel is an apprentice in the Millwright Union and has been for about 4 years now. He will hopefully be journeying out soon. We have 4 kids 3 boys and 1 girl and two fur babies that we adore!
We are so blessed and appreciative to be a Hope family. They have helped us in our hardest times.
We are working on trying to rebuild our savings and that has been extremely difficult this year. With Hope of the Grand Valley, I know that we are getting the right tools we need to get there. Not to mention the feeling of community we get. This is such an amazing organization. Someday we will be able to adopt a hope family!"
Shanaia

"I am a single mom of a smart beautiful 3-year-old I work full time and I am very thankful & blessed to be able to take care of the both of us. I have been a part of Hope of the Grand Valley since 2019; it has been such a blessing to my daughter my life to be a part of something so wonderful I have been able to meet & make new friends. I hope to one day be able to return the joy by providing to a Grand valley family in need."
-Sabrina A

We are always adding more stories, so check back often.
"All the normal resources in the community weren't available to me, a single mom of a toddler; who was working full time and still not able to make ends meet.

I made too much money to qualify for SNAP and CCAP, but I did qualify for Medicaid and WIC. Although I was thankful for every bit of assistance, that was a drop in the bucket compared to what I needed.

When I found out about HOPE of the Grand Valley for Christmas three years ago, I thought my son and I would be given a couple of presents; I was blown away by the generosity of the family that adopted us!!!"
"Taking the required budget classes help me see clearly that I needed to make more money to meet all of my expenses. So, I began looking for a better job-and I found one!! HOPE of the Grand Valley is a major reason I got the job!

The Mom's group has been a fun and informative way to feel connected to others in the same boat as me. It is incredibly encouraging and empowering to know there is a group where I'm welcome just as I am.

Now that I have a much better job, I am able to build on the budgeting principles and begin setting aside savings; and I can come to HOPE of the Grand Valley to stay connected to others and be an encouragement!

I am now a contributor and I Adopted a Family for Christmas! I am so thankful HOPE of the Grand Valley and I tell many, many people about them!"
Sue Ellen
My children and I have been a part of the Hope Family for 2 years now. I have found that being a part of this group has helped me to see how different members budget their households.
This year I now have a spouse so learning how to budget with more people in the household has been very beneficial.
Hearing the different ways other family's save money has been a money saver for me also.
I appreciate how Hope of the grand valley has adapted to Covid-19 and starting to do meetings by zoom. I also really like the bond between the members of this group.
Marissa
I hope that one day I can no longer need the program and be able to donate or bless another Hope Family.